Studying your opponent's set pieces has never been so easy. In fact, with Set Pieces, a product on the Wyscout platform, players, managers and video analysts have access to the entire archive of set pieces, for and against the team that they want to analyse.
It takes just a few clicks to study Barcelona's corner kicks, Miralem Pjanic's free kicks or the crosses made by Juan Mata. But you can also see the moves your next opponent's defence makes to find their weaknesses or, more simply, you can learn the tactical system implemented by the team that concedes the fewest goals on set pieces.
Discover the offensive potential of your next opponent or learn and take inspiration for a new play to teach your team: this Wyscout product lets everyone, from Claudio Ranieri's Nantes to the U17 team, analyse and study the variety of set pieces.

Here is an example. Let's analyse Manchester United's defensive phase on corner kicks, the team that has conceded the fewest goals in Premier League together with Manchester City and Burnley . More specifically, let's look at the 1-0 win over Tottenham.
This is a study that could be of interest to any Premier League's coach, before a very important big match, as well as to the manager of a young team that needs to review his players' defensive moves.
Here is Set Pieces at work: the corner kick taken by the Spurs is divided into two stages – before the ball comes into the penalty area and the final phase of the play, with the escaped danger for De Gea and his teammates.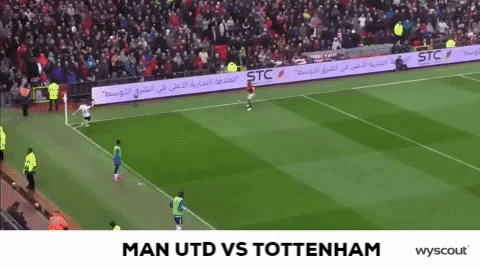 First, Manchester United's defence line is highlighted as the trajectory of the ball on Tottenham's corner kick. Then, the defenders' movements, identified by the tags, as well as those of the attackers can be noted. Finally, the conclusive phase of the play is shown, with the Red Devils defence protecting the goal against the Spurs' attempt.
Now let's analyse the offensive phase. We stay in Manchester, but this time we are looking at City. In fact, Guardiola's team is the most prolific one in Premier League.
Manchester City against Burnley, Sané's corner kick at 73', resulting in a 1-0 win for the Citizens. While the German player is about to kick, Set Pieces shows us the position of Guardiola's men in the opponent's penalty area. Manchester City is outnumbered, with 4 players against 8.
Sané's ball comes with precision on Otamendi's head who beats his opponent and also his teammate Fernandinho, who had gotten free of his direct rival in the meantime.
The Argentinian gets up above the rest and his header goes into the corner of the net: goal.
All the potential of Set Pieces is at your disposal. Why wait any longer to study your opponent or to learn from the best?
Enjoy the tutorial!
READ HERE the last article about women's football by Mayi Cruz Blanco
https://blog.wyscout.com/wp-content/uploads/2017/12/wyscout-set-pieces-COP.jpg
628
1200
Daniele Zanardi
https://blog.wyscout.com/wp-content/uploads/2017/12/LOGO-SMALL-1.jpg
Daniele Zanardi
2017-12-18 17:31:58
2017-12-21 12:26:33
Set pieces: the best way to study your opponent's free kicks